"Location, location, location." — Harold Samuel, real estate tycoon

Today's issue:
Resquared's niche real estate tool

Podcast: Achieving 100x growth

Kroger's smartphone-enabled COVID test


UC offers scholarship for cybersecurity studies

Miami U starts incubator

Searen achieves Solar Impulse accreditation




Midwest Venture Showcase

On Our Radar

Know Your City!

Around the Region
March 2, 2021
Resquared creates niche real estate tool
Griffin Morris, Resquared co-founder
Twice a year, Silicon Valley based Y Combinator (YC) funds category-defining ventures and provides them with mentorship. YC's alumni are valued at a combined $300B+ and include Dropbox, AirBnB, Stripe, Brex, and Podium to name a few.
Last month, YC invested in Cincy-based Resquared, a marketing platform for commercial real estate. Cincinnati Future spoke with Griffin Morris who, along with Tyler Carlson, co-founded Resquared.
Tell us about Resquared.
Griffin Morris: We started working on this about a year ago. We saw commercial real estate as a market traditionally underserved in terms of technology. We set out to build software that would help companies that owned shopping centers have an easier time finding local tenants.
How was finding tenants done previously?
Griffin Morris: Generally speaking, if you had a vacancy, you were going to try to find a national tenant to move in. But now national chains are downsizing or not expanding like they used to. Most retail activity has moved to more regional and local partners. That trend has been accelerated by COVID.
What does Resquared do toward that end?
Griffin Morris: To find those local types of tenants, leasers and brokers used to have to go door to door. That can be challenging so people were looking for tools in which to do marketing outreach digitally.
"We saw commercial real estate as a market traditionally underserved in terms of technology."
— Griffin Morris, Resquared CEO & Co-Founder

Our platform makes it really easy for shopping centers to identify the local businesses in their market and reach out to them about retail space. Given restrictions during COVID, this makes a great work-from-home tool for real estate professionals.
We have a database that includes information on every local business across the country. We package that into our software, which is an easy-to-use tool that searches and filters through that data. Then we offer the capability for brokers to reach out digitally. It's a huge time-saver but also gives access to more leads.
Who helped you along your journey?
Griffin Morris: We're a member of Cintrifuse, where we got access to services and point of contact. We then applied to get into the Y Combinator.
We went through a series of application and interview processes and they told us that they wanted to invest. In my startup career I've always known Y Combinator to be the most prestigious investment group. It is very difficult to get in, and is known to accept less than 2% of companies that apply.
The network, mentorship, and access to talent we have already received through YC has been a game changer.
How do you achieve 100x growth? — S2: E5

Whether you're building a startup or an innovation ecosystem, you need to hear insights from Cleveland Foundation's Baiju Shah. The veteran executive, investor, and entrepreneur shares stories about his passion for growth, Cleveland, and the next generation of healthcare.
Cybersecurity scholarship
Midwest Venture Showcase — April 27-28, 2021
With a blend of on-demand and live sessions, the virtual 2021 program is designed to provide you with the latest industry updates and flexibility to view content and company pitches according to your schedule. Co-produced by InvestMidwest and the Midwest Growth Capital Symposium. Register HERE.
Where will your next opportunity come from?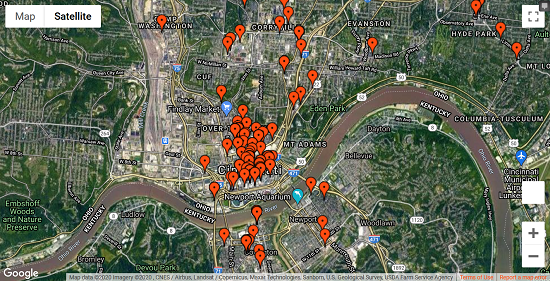 Cincinnati Future created the Innovation Radar so you have a resource to track and connect to the most innovative companies and people in our region.
Discover local innovative companies and learn about the people behind them. You can also help build our innovation radar by adding companies here. Let's build our innovation ecosystem together!
Here are several helpful links to find local innovation at work:
The Innovation Radar is free for all newsletter subscribers. Log in with your email and password Future.
Share the Innovation Radar!
Have you checked your "Cincy-Q" recently?
Here are this week's questions:
Cincinnati's culinary community was well represented in Season 16 of Top Chef by this energetic young chef who opened CWC, The Restaurant, in Cincinnati's Wyoming neighborhood. What is her name?
One of the world's greatest film directors was born in 1946 in Cincinnati. His family eventually moved west in 1957, ending up in Los Angeles. He directed TV shows like Marcus Welby, MD and Columbo, before releasing his first movie, Duel in 1971. What is the multiple Oscar-winning filmmaker's name?

What was the name of the Covington, KY, brewery that had a 100-year run, from 1866 to 1966? Its name on the side of the historic building is still visible from the highway as you pass the Covington exit on I-71/75. The building was purchased by Kenton County and is now Kenton County Government Center.
Click here for the answers!
We hope you enjoy these headlines from the latest issue of Flyover Future, chronicling innovation throughout the Midwest. If you'd like to subscribe to Flyover Future, click here.
Share stories, offer suggestions, or comment.