"Develop talent for tomorrow, rather than just hire for yesterday." — Pearl Zhu

Today's issue:
UC and Microsoft join forces

Podcast: Serve the superuser, change the world


Tech gives Cincy companies confidence

Police Tech

HAMLET will organize your AI

Lisnr gets second investment


Miami University wins NASDAQ award

On Our Radar: 88 startups


Know Your City!

Around the Region
December 8, 2020
Skilling at scale: UC and Microsoft join up to improve talent

UC CIO David J. Adams and Chris Carper, director of Microsoft's customer success team in Cincinnati
In October, the University of Cincinnati and Microsoft announced a strategic agreement that aims to develop and attract tech talent in the region and to support the university's goal of turning out more graduates who are digitally fluent. The partners plan to develop programs for skilling students, engaging faculty to solve core research and innovation initiatives, and enhance skilling programs for enterprise customers within the recently launched Cincinnati Innovation District. (Other district partners include Procter & Gamble, Kroger, and Fifth Third Bank.)
To learn more about this partnership's impact on UC and the broader community, Cincinnati Future spoke with David Adams, chief innovation officer at UC, and Chris Carper, director of Microsoft's customer success team in Cincinnati.
How important is developing talent?
Adams: It's the number-one issue for every organization we talk to. Physical capital is no longer the constraint. Money, real estate—that's not the constraint. Human capital is the constraint. Finding people you need in your organization, whether you're a startup or a Fortune 500 company, is really critically important.
You're talking about not just skilling people but also reskilling and upskilling them. Why?
Carper: Most organizations are becoming digital organizations. As they transform their technology platforms and their tools, they also have to transform their talent internally. Somebody who might be working on computer networks today might be a cloud network engineer tomorrow. The skillsets to do that are vastly different.
"Finding people you need in your organization, whether you're a startup or a Fortune 500 company, is really critically important."

— David Adams, University of Cincinnati CIO

The Cincinnati Innovation District has a lot of partners. What makes this partnership unique?
Adams: Those partnerships are really all about connecting with talent. This partnership is really about developing talent—not only developing talent at the University of Cincinnati but as importantly developing the talent within the organizations as well.
Carper: We want to make Cincinnati a talent hub. We're really excited about the opportunity that we have together to do that. These are two organizations that are very like-minded in terms of helping folks and their commercial entities be successful.

How does this partnership align with UC's mission?
Adams: It's really about rethinking higher education. Higher education traditionally has been "come get an associate's, bachelor's, master's or PhD and we'll wish you well." We're starting to rethink this model and say that those things are still important but education no longer ends once you get your degree. It's an ongoing environment for the rest of your life.
What else should local companies know about this partnership?
Carper: It really gives them the opportunity to have in their backyard a great institution that can deliver skilling at scale and help them transform their businesses. It's a great opportunity partnering with the university and looking at the university as a skilling institution.
Serve the superuser, change the world
Jose Gaztambide thought he would be a baseball insider but instead is leading the charge on a new kind of mapping that is literally changing how people navigate the world. Hear the details on Jose's journey, his company GoodMaps and the concepts, ideas and data they are harnessing to change the way we think about movement.
2020 Deloitte Cincinnati USA 100 survey
96% of Cincinnati's private companies are highly confident that they will grow revenue and sustain business operations over the next two years, despite the COVID-19 pandemic. That's the latest data from the 2020 Deloitte Cincinnati USA 100 survey. Technology, such as AI, analytics, robotics and machine learning, will be a prime enabler in that goal.
Cincy police dept upgrades tech
The Cincinnati Police Department is upgrading their technology in order to become more transparent, efficient, and solve more crimes. One application lets witnesses record a video or photo and upload anonymously to specific cases. New hardware turns on body cams when a gun or taser is drawn and a wireless upgrade allows the dashcam to deliver footage the same day it's recorded.
Platform for organizing machine learning algorithms
Researchers at University of Cincinnati and Purdue University have created a platform that could help computer scientists and developers organize and keep track of their machine learning algorithms and datasets. HAMLET (Hierarchical Agent-based Machine Learning platform), is composed of a group of AI agents trained to manage the datasets.
Lisnr gets second investment
Over-the-Rhine startup Lisnr has gotten its second investment from Visa. Lisnr's technology allows for mobile, contactless payments using sound, a valuable capability in the post-COVID world. "The fact that we can do what a QR code does at regulated, safe distances leaves us in a very promising position to go after that growing addressable market," said Lisnr CEO Eric Allen in a statement.
Miami University wins NASDAQ award
Do you have something innovative to share?
Is your company leveraging cutting edge technologies? Did your startup raise enough capital to scale up? Are you at the forefront of life saving research? Maybe your organization has a big announcement. Well, we want to hear about it! And, so does our community of innovators and entrepreneurs.

We're tracking 88 Cincinnati startups! How many are you?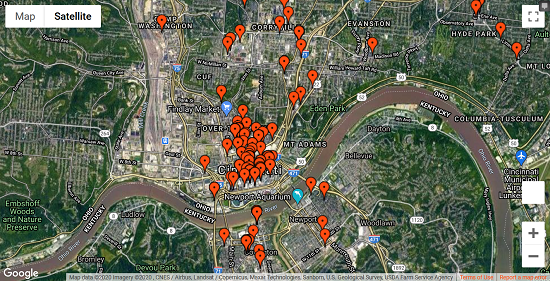 Share the Innovation Radar!
Have you checked your "Cincy-Q" recently?
Here's are the questions:
The Flying Pig Marathon has grown substantially since its start in 1999. What was unique about the race in 2011?

What was Cincy-born Fred Baur famous for?

Albert C. Carter was the son of a Cincinnati clairvoyant. What did he invent?
Click here for the answers!
We hope you enjoy these headlines from the latest issue of Flyover Future, chronicling innovation throughout the Midwest. If you'd like to subscribe to Flyover Future, click here.
Share stories, offer suggestions, or comment.