"Once you learn to read, you will be forever free." — Frederick Douglass
Today's issue:
Designer helps solve literacy roadblocks

Podcast: Answers from data

Water purifier tech

1819 expands


QR codes and athlete safety

On Our Radar: 27 key Innovation Facilitators

Know Your City!

Around the Region
January 19, 2021
Solving literacy roadblocks with tech

Reneé Seward, Founder, See Word Design
Reneé Seward graduated from the Graphic Design program at the University of Cincinnati in 2002. Today she is an Associate Professor and Program Coordinator of the Communication Design program at UC's College of Design, Architecture, Art, and Planning. She has used her design and research skills to launch See Word Design, a company that focuses on developing digital and physical tools that seek to address society's literacy problem.
How did the company come about?
I worked through the university's Venture Lab at the 1819 Innovation Hub. They gave me funding and an EIR (Entrepreneur-in-Residence) who helped me see how the technology could be launched into a company. Her name is Nancy Koors and we are now co-founders.
How did you come up with the idea for the technology?
I was in graduate school and the son of one of my good friends was having problems learning due to dyslexia. He hypothesized for himself that the reason he couldn't learn and pass was because of the layout of the page. I thought that if I could use my skills as a graphic designer to help him get over these hurdles, I was all for it. I began researching the idea. While it wasn't the page layout that was the issue, I did realize that there are strategies that can be used to teach learning skills.
I worked with a lot of schools to identify issues and I created tools that they then tested. I was able to create my first product called See Words School that is targeted to pre-K. From that technology we worked forward, creating a new product called See Words Anywhere that is targeted to any age group.
"I thought that if I could use my skills as a graphic designer to help him get over these hurdles, I was all for it."
— Renee Seward, See Words Designs

How does the product work?
Let's say you are on a website and see an article you want to read but you have some reading struggles. You can click the See Words Anywhere web browser extension and it will re-render the text in one of the interactive, phonetic literacy fonts we've created.
As you're reading across the screen and run across a word or grouping of letters that you're struggling to decode, you simply scroll over those letters and you will receive a visual and auditory cue that will help you in decoding the word. (Click here to see a demo.)

Seward is a Cincy Innovates winner and has been acknowledged as a Rising Tech star by ComSpark, awarded by the Business Courier Best Software of the Year, and the University of Cincinnati Emerging Entrepreneur of the Year.
A font her team has designed called SeeType just won an STA award, and she has given a TEDx talk on Eradication Literacy Through the Power of a Font.
Additionally, Seward is working on a collaborative research team awarded a grant from the National Institute of Deafness and Other Communication Disorders to develop a tool to help correct speech problems in children.
Yes, data can answer these questions
Flyover Future launched its inaugural Innovators Podcast with Microsoft's Future of Work Initiative in Louisville. Each episode shares stories from experts at the forefront of data and artificial intelligence.
Listen to gain valuable insight and inspiration for your own data strategy.
Here are episodes that cover how data and AI answer important questions. Your next big idea is one podcast episode away!

New grant program for startups
Cincinnati's tech scene is getting a boost. Main Street Ventures is launching a new grant program that will focus on the region's early-stage startups and entrepreneurs. Grants up to $10,000 are available. Apply here.

1819 Innovation Hub grows
La Salle High School is using technology to keep its sports teams safe during the COVID pandemic. The school has replaced its old time-consuming method for checking in student-athletes with QR codes. Athletes can now use QR codes taped on the gym wall to complete a survey and ensure manual temperature check.
Need help innovating in Cincinnati?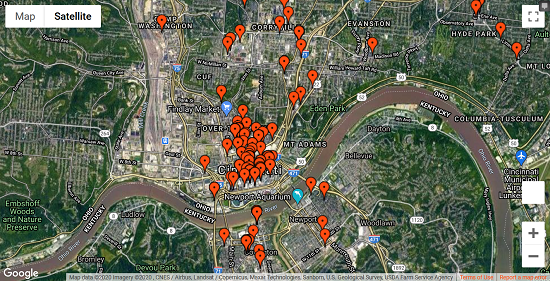 Cincinnati Future created the Innovation Radar so you have a resource to track and connect to the most innovative companies and people in our region.
Here are community resources that can help you innovate:
Find out if you're on the radar! If you're not, you can always add your company. Maybe it will lead to a future story in Cincinnati Future.
The Innovation Radar is free for all newsletter subscribers. Log in with your email and password Future.
Share the Innovation Radar!
Have you checked your "Cincy-Q" recently?
Here are this week's questions:

Big Bone Lick is now a state park in Kentucky, located about 25 miles southwest of Cincy. What is historically significant about the park?

What is unique about the Cincinnati Fire Department?

The Cincinnati Observatory holds astronomy programs and historical tours. What historically significant piece of equipment is located there?
Click here for the answers!
We hope you enjoy these headlines from the latest issue of Flyover Future, chronicling innovation throughout the Midwest. If you'd like to subscribe to Flyover Future, click here.
Share stories, offer suggestions, or comment.