"We're focused not just on what the product is today but what the product can be made to be for the future." — Brian Cobb, CVG's CIO

Today's issue:
Tech is fueling CVG's customer experience


P&G Ventures wants to hear your pitch




New program for women entrepreneurs

AI and analytics are helping manage social distancing


NKU honored with CIO 100 Award

Progress in UC's fight against cancer

Scrapbook
June 2, 2020

Embracing technology at CVG International Airport

Photo courtesy Brian Cobb, CVG CIO
These days, you can't miss the signs of growth at Cincinnati/Northern Kentucky International Airport (CVG). Most notably, a 1.2-million-square-foot rental car facility is under construction, part of a three-year building program that also includes new roadways, new entrance and exit plazas, and a new main entrance.
But CVG is also embracing the future in ways that don't involve bricks and mortar. In each of its four verticals—Transport, Connection, Clean, and Secure—the airport is deploying technology designed to improve the customer experience and reduce costs. CVG's CIO Brian Cobb took us behind the scenes to learn more.
IoT in the restrooms
We've all seen the cleaning schedules posted in public restrooms, where housekeepers record their visits. But some restrooms need more frequent cleanings. To improve cleaning schedules, CVG has worked with local vendors Losant and TaskWatch to create an Internet of Things (IoT) system that tracks restroom usage and alerts housekeeping via smartwatches when a cleaning is needed. "As soon as they receive an alert, they go into the restroom, they inspect it, they verify that it's at our level of quality, then they'll clear the alert, which resets the counter," Cobb said.
AI at the gates
When planes are in the air, they burn jet fuel—and lots of it—which has a huge financial and environmental impact. But when they reach airline gates, they can either turn on their auxiliary power units or plug into the airport's electrical system, something that is both cheaper and cleaner.
CVG is deploying AI-powered cameras to determine which power source planes are using. "I can tell you with absolute confidence on the airline side they want to know that because aviation jet fuel is usually the biggest part of the pie of any airline's expenditures, followed by crew members," Cobb said.
Drones in the air
In the near future, jets won't be the only things taking off from CVG. The airport is working with the University of Cincinnati and the University of Kentucky to develop drone technology that can be used for everything from inspecting roofs to predicting how quickly a fog event will end. "The sooner we can figure out when we can get back to flying, the more cost efficient we become—and hopefully mitigate cancellations in advance that would impact either customers or cargo," Cobb said.
The drones could also be used in the event of an aircraft emergency. "Our interest is in launching a drone and creating this secure, state-of-the-art telecom environment where we can network immediately to the life-safety personnel that would respond to that and not worry about a cellular network that might become overwhelmed quickly."
Focusing on the future
Whenever CVG looks at a new technology, it considers what it can do today, what it might do tomorrow, and how scalable it is. "We're very much focused not just on what the product is today but what the product can be made to be for the future," Cobb said.
Procter & Gamble announces its Virtual Innovation Challenge

Attention all entrepreneurs, inventors, and startups: P&G Ventures is seeking pitches for the third iteration of its new Virtual Innovation Challenge. P&G Ventures is an early-stage startup studio, and it's looking for entrepreneurs who can build technologies that will "change consumers' lives" and help "fuel innovation amidst the global pandemic."
Three finalists will be chosen from those who have applied here (the deadline is June 7). Those selected will receive pre-pitch mentoring and have an opportunity to deliver their pitch online. The single grand prize winner will receive a $10,000 cash prize, along with a chance to partner with P&G Ventures.
Among the competition's areas of focus are women's health, chronic conditions, enhanced sleep, aging at home, and male wellness. But if your work falls outside those categories, P&G Ventures may still be interested. The group says, "Ideal submissions will contain a product that is used daily or almost daily, provide noticeable superiority and have an ownable efficacy benefit that solves a problem for the meaningful number of consumers."
Women Empowered: Women's entrepreneurial initiative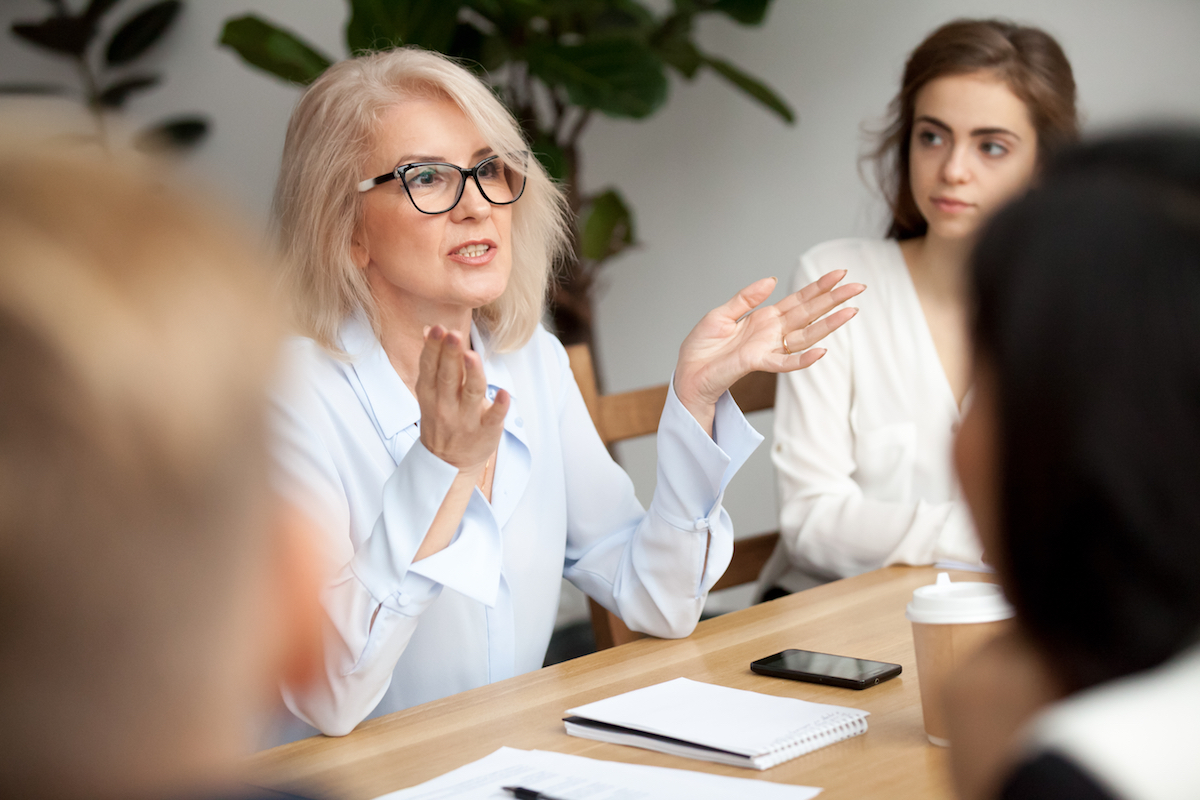 Image by fizkes at Shutterstock
A downtown coworking space has launched a women's entrepreneurship initiative, which includes a residency program.
"This is the first residency-based program specific for women entrepreneurs in the region," Colleen O'Connor, program manager of Women Empowered (WE), said in a release. "We are eager to drive this type of experience, which will help develop new businesses with mentorship, education, and opportunity."
The WE initiative aims to empower women who identify as entrepreneurs and self-starters by creating a growing and thriving community available through a centralized physical and digital hub. It hopes to reduce barriers to education, development, and capital to help women in Cincinnati's business community.
The WE Residency program will be available for up to five organizations. To apply, businesses must be defined as a women-owned (51%) organization and must be less than five years old with an established business plan or demonstrated proof of concept.
Reopened restaurant uses tech to manage social distancing
Washington Platform, the venerable oyster bar and jazz club, has recently reopened for dine-in service with a promise that social distancing practices will be maintained. To support that effort, the restaurant is test-driving some new technology aimed at helping ensure that patrons don't get too close to each other. The system provides a display that shows where people are in the restaurant, using a green icon to indicate when they're at least six feet apart and a red icon if they're too close for too long.
The technology was developed by Known Quantity Sensors, a smart building company that uses AI and analytics "to inform and automate a variety of building operations and management use cases." The company's chief technology officer, George Brunemann, said the system is designed to help people remain aware of their proximity to others as they follow the distancing guidelines. "The idea is that people can quickly look at the display and say 'Hey, maybe I need to move away,'" he said.
NKU honored with CIO 100 Award

Northern Kentucky University's Office of Information Technology is one of five universities in the U.S. being recognized for innovation in information technology.
The CIO 100 Award, sponsored by CIO Magazine celebrates 100 premier organizations and teams that are using tech to in innovative ways to deliver business value, whether by creating competitive advantage, optimizing business processes, enabling growth, or improving relationships with customers.
NKU's team earned the national recognition for delivering value through innovation within its state-of-the-art Health Innovation Center.
"I'm proud of our Information Technology team's abilities to transform and unlock a classroom's true potential. We foster a culture of innovation, and this is a key indicator of NKU's culture," president Ashish Vaidya said in a release.
UC researchers: encouraging results from pre-surgery chemo
A research team at the University of Cincinnati has seen promising results after trialing two chemotherapy regimens on patients who have early-stage pancreatic cancer. The trial, which ran from 2015 to 2018, enrolled 103 pancreatic cancer patients who were eligible for surgery. Those patients were given one of two drug combinations—but there's a twist. They underwent chemo before their surgery, as well as afterward.
The team reports that 33% of patients who had surgery showed a significant or complete response to the pre-surgery chemo, with no signs of cancer or only a small amount of disease present in the tissue that was removed, regardless of which drugs they'd been given.
The leader of the trial, Davendra Sohal, MD, said the researchers will be studying the long-term results of the trial. "We will then know the number of patients still alive two years after their trial treatment and have better data on which of the two chemotherapy treatments performs best."
We publish Scrapbook from time to time because we believe the best way to envision our future is with a good understanding of where we've been. We hope you enjoy our fascinating "look-back!"
If you take a trip to the Cincinnati Museum Center, you'll find a collection of more than 1.8 million artifacts, art works and archives. You'll also get a glimpse into one of the most significant developments in transportation history: Union Terminal, a National Historic Landmark. The terminal's Art Deco design is credited to Paul Philippe Cret.
Here are a few images of Union Station when it opened in 1933. (All images from Historic American Building Survey.)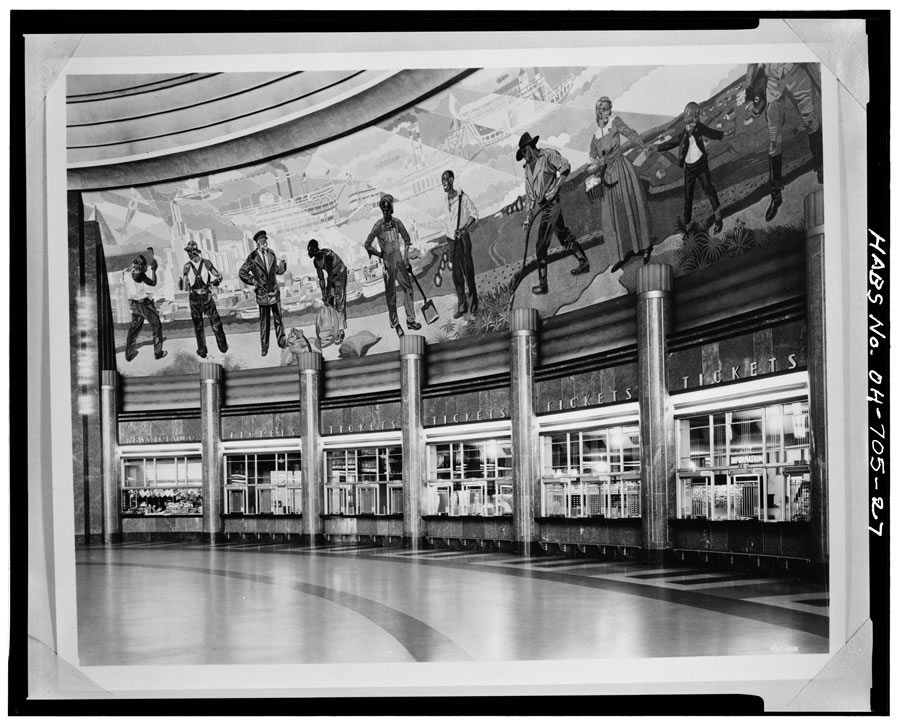 The Winold Reiss industrial murals, above, adorned the concourse of the station from its creation. There are 16 tile mosaic murals displaying manufacturing in Cincinnati. When the concourse was demolished in 1973, the murals were moved at a cost of $400,000. They're now located in the Cincinnati Historical Society's special exhibits gallery.
This was the formal dining room at Union Station showing the tables set for guests and the original furniture. During World War II the dining room was often filled with soldiers and their families.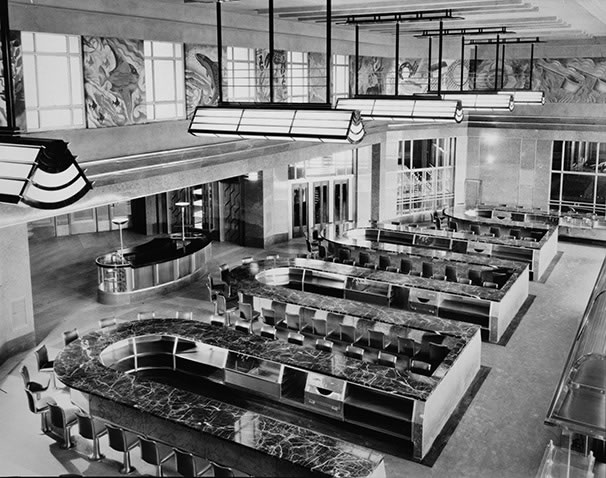 The lunchroom with its serpentine counters and original murals.
Share stories, offer suggestions, or comment!