"Expect the best. Prepare for the worst. Capitalize on what comes." — Zig Ziglar

Today's issue:
Persevering through a pandemic


Innovation help wanted

BioTech startup closes seed round


P&G going carbon neutral

Physna attracts top talent

Spark Awards


Scrapbook
August 4, 2020
Creating a path to success during a pandemic

Image by Rawpixel.com for Shutterstock
Analysts have projected a global decline of 22% of startup seed-stage investing due to the spread of COVID-19. What plans do Cincy venture capitalists have for replenishing the startup pipeline in the weeks and months ahead?
Pat Longo, President and CEO at HCDC, the economic development office for Hamilton County, agrees that these are challenging times for entrepreneurs. Then again, as Longo points out, they've faced financial challenges before.
"These are unusual times, and early-stage capital is getting tighter for StartUpCincy entrepreneurs," Longo told Cincinnati Future. "All of us at the HCDC business center have seen these challenges. We've experienced the dot com meltdown in 2001 and the great recession of 2008. We're working diligently with companies to create and implement business plans and models that make them increasingly attractive to revenue sources and capital providers."
CincyTech
One of the key capital provider for the Greater Cincinnati startup ecosystem is CincyTech.
Immediate steps for CincyTech CEO Mike Venerable and his VC team include confirming adequate capital in the CincyTech portfolio and providing leadership and support to portfolio companies. Venerable is unsure if the long-term financial impact from the spread of COVID-19 will be similar to the 2008 financial crisis. However, he's optimistic, thanks to the State of Ohio resources and key economic indicators like housing prices and a resilient stock market.
"I do not have a sense today about how much entrepreneurial behavior has stopped or slowed down," Venerable said. "We'll know in the next 18 months. However, we have great state-level resources in Ohio with JobsOhio and Ohio Third Frontier. Our infrastructure is strong regarding seed-stage funding, and we have a great deal flow out of our research institutions. Our seed-stage financing is more mature than in most places."
Coaching
Both Longo and Venerable, two of the most experienced mentors in Cincinnati's startup ecosystem, agree that access to coaching and leadership is nearly as important as funding in the time of COVID-19. What's the value of financing if startup leaders can't pivot and provide the solutions customers need in the after-COVID economy?
"There are general changes in how healthcare works and how commerce works and how people want to engage," Venerable said. "Some enduring trends are coming out of this. We're working with an out-of-state collaborator who works on innovation for healthcare systems. We're working with our companies to identify emergent problems and solve them in new and novel ways."
Share this story!

Build emerging tech for better health outcomes
Peter Margolis, MD, PhD, co-director of the James M. Anderson Center for Health Systems Excellence, and his team at Cincinnati Children's have been transforming pediatric medicine for years. They've been doing it by facilitating Learning Health Networks (LHN).
John Bostick, CEO of Hive Networks, spent three years studying Margolis' work in order to develop the technology to empower doctors and researchers on their quest to improve health outcomes for patients. Carolyn Wong Simpkins, Senior Advisor of Clinical Strategy at Hive, explains what Hive does:
"Hive created a system in which shareholders could, using software, share measurable goals and available resources and hold each other responsible for making progress toward the goals," she said.
This includes the patients and their families. Patients bring new perspectives to bear on the problems the group is trying to solve. "That sounds obvious, but it isn't always so," Simpkins said.
"One young patient had a condition where he had to have an NG tube inserted frequently. He taught himself how to administer the tube, created a video and posted it to the community to help others," she said.
Hive is taking this momentum to scale and grow beyond pediatric-focused networks to those addressing conditions that impact a wide array of patients. The company is creating a paradigm shift in the healthcare industry by changing the way clinicians and patients use technology to work together and improve health outcomes.
Hive is hiring for tech positions to help expand software development and adoption of its technology. You can get the details on the open positions here.
Share this job!
Eikonoklastes Therapeutics closes oversubscribed seed round
Eikonoklastes Therapeutics, a biopharmaceutical startup developing immunotherapies for breast cancer, has closed an oversubscribed seed fund, led by CincyTech.
The Ohio State Innovation Foundation provided an IP license from technology discovered and engineered by founder Zhiwei Hu, MD, PhD. Eikonoklastes Therapeutics will use the seed funding to complete a confirmatory in vivo IV efficacy study. The funding will help it initiate manufacturing scale-up.
"There is an urgent and critical need for a novel approach," said Bruce Halpryn, PhD, co-founder and CEO of Eikonoklastes. "Eikonoklastes' platform technology is designed for maximum efficacy and a superior safety profile, using targeted killing without the need for a toxic payload. It's a tremendous opportunity to treat numerous diseases."
The closing of its oversubscribed seed fund at Eikonoklastes Therapeutics shows that Ohio's infrastructure for seed funding remains vibrant.
Procter & Gamble going carbon neutral
Procter & Gamble has announced a comprehensive effort to go carbon neutral for the 2020s. The effort includes reducing greenhouse gas emissions by 50%, purchasing renewable electricity for all manufacturing sites, and supporting climate solutions that deliver a carbon benefit equal to P&Gs remaining operations emissions. The Cincinnati-based global behemoth will need to balance approximately 30 million metric tons of carbon for the next decade.

Despite rapid advances in implementing wind, solar, and geothermal projects, P&G estimates it can eliminate only about half of its greenhouse gas emissions by 2030, so the company will make up the rest by buying renewable electricity and investing in projects around the globe that protect critical ecosystems like forests and wetlands. Projects include restoring an endangered mangrove ecosystem in the Philippines, a forest landscape restoration project in Brazil, and reforestation projects in California and Germany.
Physna, a Cincy software company specializing in geometric deep-learning technology, has announced three key appointments to its leadership team and board of directors. The new leaders come from tech heavyweights, including Google, Apple, Microsoft, GitHub and Heroku. The new team will guide Physna's growth in 3D data modeling, which is in demand in the aerospace, defense, automotive, healthcare, and industrial machining industries.
Joining the company are new CTO Dennis DeMeyere, former technical director at Google; new board chairman Mark Kvamme, co-founder of Drive Capital and a former Apple exec; and new board member Jason Warner, CTO of GitHub and former VP of engineering at cloud-platform specialist Heroku. The new team will help Physna "optimize its business and product strategies to meet high demand across several industries," according to a company release.
BBB Spark Awards open for applications
BBB Center for Ethics, the workplace ethics education arm of the Better Business Bureau of Cincinnati, opens applications for the 2020 Spark Award in recognition of exceptional entrepreneurs, new business owners, and startup founders 35 years and younger.
The 2020 Spark Award is a partnership between BBB Center for Ethics and StartupCincy.
Applicants must operate new businesses with fewer than 36 months of operation and hold a B rating from the BBB. The Spark Award recognizes entrepreneurs, new business owners, and startup founders who embody character, culture, and community traits embraced by the BBB Center for Ethics.
Spark Award business owners and entrepreneurs embrace the BBB mission for growing a diverse and ethically minded workforce and workplace.
Spark Award alumni businesses include Helium SEO, an internet marketing company, and The Bagelry, a food retailer in Cincinnati's Over-the-Rhine neighborhood.
The deadline for applying is September 10, 2020.

It was founded by Bernard Kroger in 1883. It is now the United States' largest supermarket by revenue. While Kroger started out as a place to pick up a few groceries, it has grown into a megastore where you can pick up some groceries, your prescriptions, a box of wine and, now, even a pair of shoes.
The Kroger Co. traces its origins back to a business called the Great Western Tea Company, founded by Kroger and B.A. Branagan in Cincinnati. Kroger, a former coffee-and-tea salesman, soon bought out Branagan's interest, and by 1885 he had a chain of four groceries.
After Kroger began expanding outside of the Cincinnati area in 1928, its founder sold his shares and retired from the business. The following year Kroger was operating 5,575 stores.
We thought you'd find it interesting to see a Kroger store circa 1946 and how it looks today.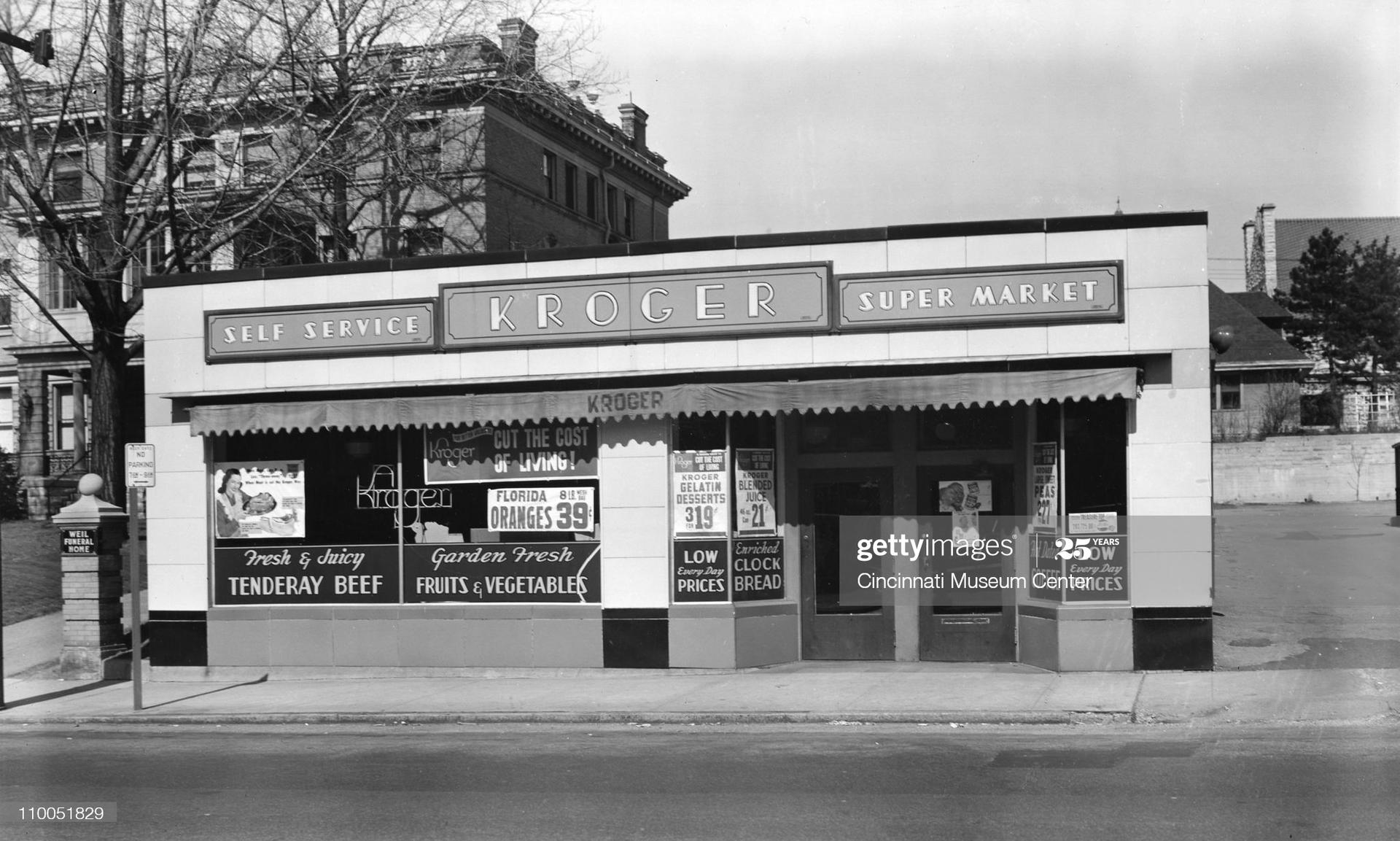 The building today--basically the same storefront configuration, but without its retro paneled facade.
Share stories, offer suggestions, or comment!