"An investment in knowledge always pays the best interest." — Ben Franklin

Today's issue:
Miami U takes on entrepreneurship

Podcast: Your next big idea


3D printed organs

Autonomous vehicle tech at CVG

Four rising stars

NKU recognized for entrepreneurial ed

High-tech fulfillment at Kroger

On Our Radar


Scrapbook

Around the Region
December 15, 2020
Making Greater Cincy the #1 startup hub in the Midwest

Image courtesy Miami University
Gregory Crawford, President of Miami University wants to make Greater Cincinnati the top startup hub in the Midwest. We talk to him about what the university is doing toward this goal.
What makes Cincinnati the city to set this goal in?

Crawford:: When I took on the presidency of Miami University, I quickly learned how extraordinary Greater Cincinnati had become for entrepreneurship. Sure, there are great Fortune 500 companies in the city and an impressive infrastructure for startups – but it's the people who make this entrepreneurial ecosystem so special. It is an ecosystem with talented mentors and inspiring role models everywhere, ready to roll up their sleeves and help one succeed.
What are some of the things you're doing?
Crawford: At Miami University, our strategies to connect with Greater Cincinnati include The John Altman Institute for Entrepreneurship. A few weeks ago the institute was honored with the NASDAQ Center for Entrepreneurship Excellence Award. It joins a cohort of top university recipients over the years that includes Babson, MIT, Columbia, Cornell, Berkeley, and Stanford.
We've begun a new Department of Entrepreneurship in the Farmer School of Business. We provide entrepreneurship competitions and entrepreneurial internship experiences that are connected to the startup ecosystem in Cincinnati. More than 3,200 students from more than 125 majors participated in an entrepreneurship offering at Miami.
We want to collaborate with companies and partners through our faculty. One example is Professor J. Andrew Jones, who teamed up with PsyBio Therapeutics to develop a new and exciting class of molecules to treat mental illnesses, such as depression, anxiety, PTSD, and substance dependency. PsyBio is sponsoring research at Miami University over the next two years to further develop a platform technology. And Miami has granted PsyBio a global exclusive license for the technology generated from such research. We hope to expand this collaborative model even more in Southwest Ohio with regional companies.
Lastly, Boldly Creative is a $50 million academic venture capital fund designed to make significant and targeted investments on our campus. Teams of faculty submit proposals for boundary-breaking, transdisciplinary projects in new and emerging areas that are sustainable with growth potential.
"When I took on the presidency of Miami U, I quickly learned how extraordinary Greater Cincinnati had become for entrepreneurship."
— Gregory Crawford, Miami University

You're no stranger to innovation yourself. Can you talk about your background?
Crawford: I began my career at Xerox Palo Alto Research Center (PARC) in Silicon Valley after graduate school. I caught the entrepreneurship "bug" there. At that time and place, it was all about invention, discovery, innovation, and value creation. That culture and mindset followed me into my academic career.
What other entities does the university work with to encourage business growth and talent attraction?
Crawford: We have developed intentional relationships with REDI Cincinnati; the Cincinnati USA Regional Chamber of Commerce, especially the Minority Business Accelerator; Cintrifuse; and CincyTech, among others. The work these organizations do to grow, attract, and retain businesses is vital to the success of Ohio's economy. We want to turn today's talent into tomorrow's business leaders in our region.
Your next big data & AI idea is one podcast episode away

This fall we launched our inaugural Innovators Podcast with the Future of Work Initiative powered by Microsoft in Louisville. Each episode shares stories from experts at the forefront of data and artificial intelligence. Listen to gain valuable insight and inspiration for your own data strategy.
Here are a few of the most listened to episodes:
UC prof builds 3D-printed organs-on-chips tech
University of Cincinnati assistant professor Riccardo Barrile is working on creating living human organs and tissues by combining stem cells, 3D bioprinting and organs-on-chips technologies. Barrile's work will focus on targeting personalized treatments to the cellular and molecular mechanisms that govern organ functions during health and illness.
Autonomous vehicle tech comes to CVG
Four businesses recognized by Deloitte as Rising Stars
NKU wins innovation honor
Kroger announces new region for high-tech Customer Fulfillment Center
Kroger plans to construct an additional Customer Fulfillment Center (CFC) in the South region, while also collaborating with Ocado on in-store fulfillment (ISF) capabilities with a planned rollout across Kroger stores, beginning in 2021. The CFC model – incorporating state-of-the-art automation and AI – will be used to expand Kroger products to a larger footprint.
We're constantly tracking local innovation. Are you?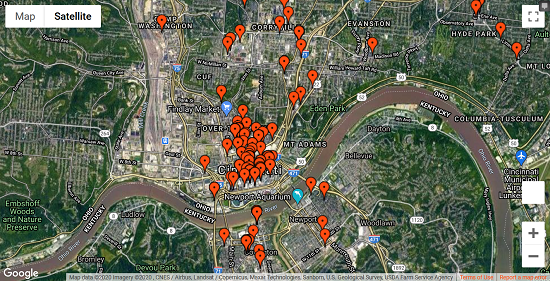 We created the Cincinnati Future Innovation Radar so our writers could have a resource to track the most innovative companies and people in our region. You've likely read a story that came from our radar. Now you can access the same information!
Our team is always adding and updating the radar. Recent updates include:
Find out if you're on the radar! If you're not, you can always add your company. Maybe it will lead to a future story in Cincinnati Future.
Share the Innovation Radar!
Macy's schmacy's. Most Cincinnatians know that, from the mid-1950s to the 1980s, if you wanted to be enchanted by holiday displays, you just had to go to Shillito's. Cincinnati's first department store, located at Rice and Seventh streets, was well-known for its Christmas elves display.
The display began when the visual merchandising department at Shillito's refurbished other department stores' holiday displays each year, making the outsider elves and Christmastime tableaus their own. In 1979, new life was breathed into the holiday exhibit with a fresh family of locally handcrafted elves. When the Shillito's closed in 1983, the elves were put in storage.
In 2005, Bill Spinnenweber, whose family owns the Mariemont Inn, located the elves and bought the displays and relocated them at 6940 Madisonville Road in Mariemont. Sadly, Spinneweber announced 2017 as the elves' last year and they were put in storage. Here's to hoping they'll find a new play to show off.
Merry Christmas from the gang at Cincinnati Future!
We hope you enjoy these headlines from the latest issue of Flyover Future, chronicling innovation throughout the Midwest. If you'd like to subscribe to Flyover Future, click here.
Share stories, offer suggestions, or comment.