"The best startups generally come from somebody needing to scratch an itch." — Michael Arrington, TechCrunch founder
Today's issue:
Marketing innovation

Podcast: A healthy data strategy


New tech for remote connectivity

Belcan acquires Avisa

Clinical collaboration


No more cold chain shipping

On Our Radar


Know Your City!

Around the Region
January 12, 2021
Marketing innovation at Navistone

Larry Kavanagh, Navistone CEO
NaviStone is a marketing company located in Over-the-Rhine that combines classic direct mail with digital retargeting. NaviStone's CEO and Founder, Larry Kavanagh talked to Cincinnati Future about his company and the tech behind it.
Tell us about how NaviStone was launched.
Kavanagh: I worked in the digital marketing space in the 2000s and saw the birth and growth of many of the online marketing programs we take for granted today. Online search was just beginning, triggered emails were rare, and social media hadn't been invented yet. What made these programs work is that they allowed companies to introduce their products just to people whose web browsing showed that they were interested in a particular topic.
As digital marketing grew — today it's more than a $250 billion dollar industry — it became less effective. At the same time, responses rates were rising in direct mail as companies oversaturated consumers with online advertising.
I started NaviStone to take what I saw work in the early days of online advertising and combine it with direct mail.
You've been awarded the best in "Marketing Innovation" by the Cincinnati Business Courier. Can you give us more details on the innovation?
Kavanagh: Purely digital advertising is oversaturated. It still works because marketers can reach consumers with a relevant marketing message at the right time.
Direct mail, historically, was sent in large batches, often millions of the same pieces sent to households across the country. It worked well enough because it generally was sent to the right people. The problem, though, was that it wasn't sent at the right time. Response rates were fairly low because many mail pieces went to people who just weren't interested at that moment.
NaviStone built a new marketing platform that allows us to use digital signals of interest to trigger daily, relevant direct mail. We were the first company to do this, and we were awarded a patent for our process of doing so.
"Any company is only as strong as its people. This is particularly true in technology, where being nimble and innovative are the key to staying relevant and succeeding."
— Larry Kavanagh, Navistone CEO
Describe the company culture and why it's so important.
Kavanagh: Any company is only as strong as its people. This is particularly true in technology, where being nimble and innovative are the key to staying relevant and succeeding.
We built our culture around five core values that we've found high achievers are attracted to. We only hire people who embody these values. No exceptions. Those core values are: 1) We care. People matter. 2) Gotta wanna own it. 3) When it doesn't exist, invent it. 4) We take the work seriously, ourselves not so much. 5) Accountability, not blame.

We do great work, and have fun, at least most of the time, doing so. And when something goes wrong it's not about pointing fingers, it's about figuring out, together, what we need to change.
What are the advantages in being located in Cincinnati?
Kavanagh: There are many! Cincinnati has a lot of people with great technical skills, but not a lot of opportunities for them to build new software products. The startup community here began later than in other cities which means it's still in that earlier/adolescent stage where there is a lot of growth and excitement.
The city also has a number of neighborhoods with the kind of office space and urban vibrancy that helps companies grow. Arts and entertainment abound, but so do real opportunities, through a wide range of charitable organizations, for hands-on activities to give back to the community.
Flyover Future launched its inaugural Innovators Podcast with Microsoft's Future of Work Initiative in Louisville. Each episode shares stories from experts at the forefront of data and artificial intelligence. Listen to gain valuable insight and inspiration for your own data strategy. Here are episodes that cover data and AI innovation related to healthcare. Your next big idea is one podcast episode away!
New tech for remote connectivity
In the continuing effort to evolve from just a telecom company, CBTS has recently launched a portfolio of networking products equipped with Software-defined Wide Area Network (SD-WAN) technology. The move will help streamline connectivity in a time that remote work has become the norm.
Belcan, one of Cincy's biggest engineering firms announced its acquisition of Avista Inc., a Wisconsin-based company that offers software engineering services to the aerospace, defense industrial and medical industries.
Health network collaboration
Removing the need for cold chain shipping
Meridian Biosciences has launched a master mix (Air-Dryable RT-qPCR Mix) for developing both DNA and RNA based molecular diagnostic assays at ambient temperature, removing the need for cold chain shipping and storage.
Who is innovating in Cincinnati?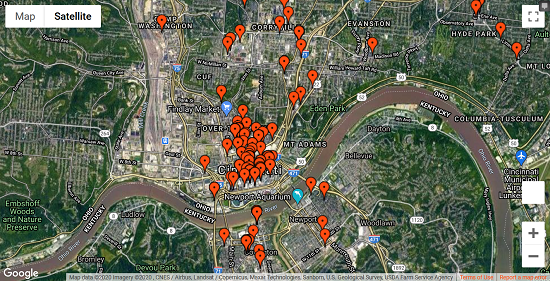 Cincinnati Future created the Innovation Radar so you have a resource to track and connect to the most innovative companies and people in our region.
Here is a look at who is innovating and investing in Cincinnati:
Find out if you're on the radar! If you're not, you can always add your company. Maybe it will lead to a future story in Cincinnati Future.
The Innovation Radar is free for all newsletter subscribers. Log in with your email and password Future.
Share the Innovation Radar!
Have you checked your "Cincy-Q" recently?
Today, Kroger ranks as one of the world's largest retailers. And it all started in Cincinnati. Can you answer these questions about Kroger?
What was the original name of Kroger?

In the 1930s, Kroger was the first grocery chain to do what?

In the 1970s, Kroger became the first grocer to implement this technology. What was it?
Click here for the answers!
We hope you enjoy these headlines from the latest issue of Flyover Future, chronicling innovation throughout the Midwest. If you'd like to subscribe to Flyover Future, click here.
Share stories, offer suggestions, or comment.