"While it may seem scarier in the earlier days, I think ultimately the blockchain creates a safer world." — Fred Ehrsam

Today's issue:
Keeping air travelers safe during COVID


Innovators podcast: EdTech & Data

CVG granted another $6.7 million


IncludeHealth joins 1819 Innovation Hub

On our radar

UC recognized for co-ops




Podcast explores innovation in Cincy

Scrapbook

Around the region
October 13, 2020
GE Aviation develops app to make flying safer in COVID era

Image by Shawn Goldberg for Shutterstock
Cincinnati's GE Aviation has developed an app to help keep airline passengers safe and airlines financially healthy during the COVID pandemic. It uses blockchain technology and QR codes to ensure passenger health, crew health, seat-and-tray-table cleanliness, and faster boarding. GE Aviation worked with TE-FOOD, a German company that uses blockchain to track the food supply chain. Airlines and airports are testing the app now.
Here's how it works: A passenger can scan their passport to create a QR code and then follow the airline's instructions to show proof of a negative COVID test or other health status. Blockchain keeps the private data secure and, pending airline adoption of the technology, allows for a quicker boarding process. Once aboard the aircraft, the passenger can use the app to scan their seat and tray table to verify it was cleaned before the flight.
David Havera, the app's designer and general manager of GE Aviation's blockchain solutions, hopes to extend the app to hotels and ride-sharing services.
How are the GI Bill and EdTech connected?

If it wasn't for the GI Bill, Len Napolitano wouldn't be our guest on this week's Flyover Future Presents: Innovators podcast. Instead this U.S. Army veteran and EdTech pioneer (now CEO of Capture Higher Ed) talks with us about how data can align students with the right schools and schools with the right students. Join our hosts Ben Reno-Weber from Louisville's Future of Work Initiative and our executive producer Brian Eichenberger, in a fascinating podcast on how data is redefining the way students find the best education options.
CVG gets another improvement grant
The Cincinnati/Northern Kentucky International Airport (CVG) received another Airport Improvement Grant from the U.S. Department of Transportation. The latest grant is worth $6.7 million and brings the total grant award for the year to $51.7 million.
The funding is a mix of CARES Act Funds, as well as supplemental AIP funds.
"We are grateful to the U.S. Department of Transportation and Secretary Elaine Chao for additional funding for these critical projects at CVG," said Candace McGraw, chief executive officer, CVG, in a release. "Continued investment in our airport's infrastructure will speed the region's economic recovery from the significant impact of the pandemic. An investment in infrastructure is an investment in jobs and our community's future."
Earlier this summer CVG received $45 million in grants to help with infrastructure, which was a small chunk of the national spending at $1.2 billion. CVG plans to use the money to rehab runways, as well as the attached taxiways.
(You can learn more about the tech updates at CVG by reading our interview with Brian Cobb, Chief Innovations Officer at CVG.)
IncludeHealth moves into 1819 Innovation Hub

IncludeHealth is opening an innovation lab at the UC's 1819 Innovation Hub. The health performance company is looking to showcase some of its offerings, such as IncludeStrength.
IncludeStrength grew from an idea that founder and CEO Ryan Eder had during his senior year at UC. He wanted to develop a workout machine that could be used by everyone, including those with disabilities. The company's new tech, IncludeConnect, allows users to gather data from a workout machine via a sensor. Eder told Cincinnati Future that they are joining the Innovation Hub because many of the companies that are key partners are also the same companies that helped them grow.
"P&G, Live Well (The Live Well Collaborative), and CincyTech were the first organizations to provide support and help us grow when it was nothing but an idea and some product renderings," Eder said. "As 1819 was being constructed and as more collaborative partners joined the Cincinnati Innovation District, it provided an unparalleled amount of energy and opportunity under one roof."
Gain insight into the Cincinnati innovation ecosystem

Learn more about the people and organizations shaping the economic future of our city with Cincinnati Future's innovation radar. There are over 250 company profiles. Is your company one of them? Explore the innovation radar to find out.

To say life sciences and pharmaceutical innovation is important would be the understatement of 2020. Here are a few local companies on our radar:
Share the Innovation Radar.
UC ranks 5th in nation for co-ops and internships
The University of Cincinnati's co-op and internship program ranks among the top five universities in the nation, according to the coveted U.S. News & World Report "Best Colleges" guide. UC's fifth-ranked co-op program is the third largest in the world and its students earn a collective $75 million annually working for about 1,300 employers. Only Northeastern, Drexel, Georgia Tech, and MIT ranked higher.
The UC program already included a work component allowing students to complete their internships remotely, so the program hasn't skipped a beat during the COVID era. At UC, students can alternate semesters with paid work directly tied to their majors, giving them experience working for small businesses, major employers, multinational firms, non-profits, and startups.
Refinery Ventures offers podcasts
There were an estimated 88 million podcasters in 2019, according to Statista.com. Refinery Ventures is getting in on the party with its latest project, a podcast called Fast Frontiers.
"The idea for this podcast came out of years of conversations with friends about the dramatic changes we have been seeing in venture, entrepreneurship, and innovation," Tim Schigel, Refinery Ventures managing partner, told Cincinnati Future. "Through interviews with investors, founders, writers, and researchers, the podcast explores the acceleration of innovation in unexpected places," Schigel said. "I'm interested in helping entrepreneurs outside Silicon Valley learn and share faster to accelerate growth. There are so many great stories that often go untold."
This is certainly going on our playlist. If you enjoy Fast Frontiers, you'll also want to check Flyover Future Presents: Innovators podcast.
Skyline Chili: The start of a fabled Cincy brand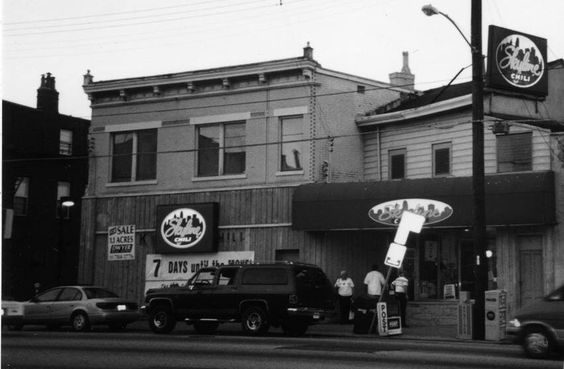 Image from University of Cincinnati
Every successful business was once a startup and that's true of legendary Cincinnati restaurant Skyline Chili. With its unusual, top-secret recipe that looks Tex-Mex but tastes Greek, it has legions of fans around the country and is a must-taste for visitors to Ohio.
Skyline was founded in 1949 by Greek immigrant Nicholas Lambrinides. His first store, on Glenway Avenue, afforded a view of the Cincinnati skyline, giving the restaurant its name. The chili was a hit with the local German community and by the mid-sixties, Lambrinides and his three sons began opening up more restaurants and selling frozen chili in groceries. In 1974, the family sold its first franchise store.
By 1984, the company had 30 restaurants and a new partner and CEO in Thomas Bell, who had a vision of opening thousands of restaurants nationwide. Despite clever marketing, including working with Cincinnati colleges to identify alumni in cities where new stores opened, the chain never quite reached Bell's vision. But today, Skyline has 136 restaurants in four states, where happy
customers enjoy their 3-way, 4-way, 5-way, or Coney.
We hope you enjoy these headlines from the latest issue of Flyover Future, chronicling innovation throughout the Midwest. If you'd like to subscribe to Flyover Future, click here.
Share stories, offer suggestions, or comment.