"A brand is no longer what we tell the consumer it is – it is what consumers tell each other it is." — Scott Cook, Founder of Intuit

Today's issue:
Geosocial data sets



P&G launches LifeLab Everyday

Survey solutions


Abre announces new CEO

$20M infusion for Gravity Diagnostics


UC's Digital Fabrication Lab

On Our Radar

Know Your City!

Around the Region
January 26, 2021
Image courtesy Spatial.ai
There are billions of people talking about their mindsets, interests and attitudes on social media and there was no company that was capturing that data on a geographical level. That is, until three years ago when Spatial.ai released its geosocial dataset.
Cincinnati Future spoke with Lyden Foust, Spatial.ai's CEO, about how the company began and the tech behind its success.
How did the idea for the tech come about?
Foust: I was doing a lot of ethnographic research for P&G as a consultant. I would go to a city and study its culture for a period of time and come back with insights. I did a lot of the research by writing surveys for people to ask about how they felt about products. But I found that I was impacting my own data by my questions.
Then I realized that people are talking about their interests all over social media.

How did the company form?
Foust: I worked at GE Aviation and had a friend there who worked with the airflow data coming off of jet engines. We just transferred that to social media. One would never expect ethnographic research to connect airflow data from jet engines. But it worked out pretty well.
Can you describe your process?
Foust: We're pulling data from Twitter, Instagram, Facebook, Flicker, 4Square, Meetup.com, Eventful and Yelp, but it's mostly Twitter and Instagram posts. We organize all those billions of posts into 72 different segments of interest and communities. We can zero in on a particular neighborhood and find out if they're talking about literature, gardening, dogs, etc. A little insight: Since COVID hit, data from pet lovers has gone through the roof. And there are a lot more wine lovers.
There are companies that do unreal stuff with our data. I just posted an article on the top 20 companies built on geosocial in 2020.
"There's an 80% penetration of social media in the United States. Why not listen to what people were already saying?"
— Lyden Foust, Spatial.ai CEO

Give us a specific example of the tech.
Foust: Let's look at the dataset we named Dog Lovers. We allow a machine to find mathematically related terms in social media and create segments. There's a mathematical relationship between the words "grooming" and "man's best friend." The machine doesn't know why there's a pattern but, as humans, we know it's clearly some kind of dog lover's segment. The data is then distributed geographically.
So we can look at Columbus, for example, and see where there is a bigger concentration of dog lovers. Retailers can use that data to tell them where to open a store or where to put their product.
We can also analyze an area to find out what categories of businesses already flourish there. The data is predictive of retail sales. For example, in areas where yoga is popular, the types of businesses that do well are vegan, skincare, acupuncture, and massage services. So it gives people an idea of where to put their company.
We're a small team but we're really good at doing analysis on human behavior. We supply that to companies and they're the ones who make it real.
Directions Research launches new suite of products
Lab gets $20 million infusion from PNC
UC's 3D printing lab pitches in during pandemic
Who is innovating in Cincinnati?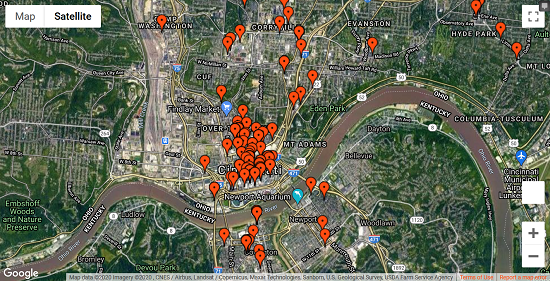 Cincinnati Future created the Innovation Radar so you have a resource to track and connect to the most innovative companies and people in our region.
Our team is constantly adding and updating organizations. Here are a few recent updates:
Find out if you're on the radar! If you're not, you can always add your company. Maybe it will lead to a future story in Cincinnati Future.
The Innovation Radar is free for all newsletter subscribers. Log in with your email and password Future.
Share the Innovation Radar!
Have you checked your "Cincy-Q" recently?
Here are this week's questions:

What was the original name of Mount Adams?

What Cincy building was the first reinforced concrete frame building in the U.S.?

What was banned in Cincinnati in 1979, had a one day exemption in 2002, and then allowed for good in 2004?
Click here for the answers!
We hope you enjoy these headlines from the latest issue of Flyover Future, chronicling innovation throughout the Midwest. If you'd like to subscribe to Flyover Future, click here.
Share stories, offer suggestions, or comment.