"Just because no one else can heal or do your inner work for you doesn't mean you can, should, or need to do it alone." — Lisa Olivera

Today's issue:
Tech to improve mental health outcomes


Podcast: Kentucky recognized as data leader

UC tests drug for metastatic cancer

Drone-integrated electric vehicles

Miami U recognized for entrepreneurial excellence

Cincy to get $700M in new development


Something to teach, something to learn

On Our Radar

Know Your City!

Around the Region
December 1, 2020
Image by By Andrea Danti for Shutterstock
Clarigent Health was established to empower mental health professionals with clinical support. In 2018, CincyTech led Clarigent's oversubscribed $1.6 million seed financing round, with participation from Cincinnati Children's, Sadie Ventures, Airwing Ventures, and management. Today, Cincinnati Future sits down with Don Wright, Clarigent CEO, to talk about the company.
What was the impetus behind establishing Clarigent?
I was born and raised in Cincinnati Ohio. I have spent over 30 years in the healthcare and informatics space. Prior to Clarigent Health, I led Assurex Health.
Assurex Health grew to over 500 employees and was acquired in 2016 by Myriad Genetics. When I left after the transition period, I knew I wanted to continue working in the mental health field, and to build another company that helped people.
Lack of funding and other factors including stigma have caused mental health to lag behind other areas of medical practice when it comes to integrating technology and science. In 2018, we established Clarigent Health. Our goal is to bring science to mental health. Our core technology builds on foundational research conducted at Cincinnati Children's Hospital Medical Center led by Dr. John Pestian and Dr. Tracy Glauser. My co-founder, Bill Haynes, and I had previously worked with John and Tracy during our Assurex days, including sponsoring some of the research that's now the core technology at Clarigent.
Although I have worked in and advocated for mental healthcare for a long time, three years ago this purpose became more deeply personal. My son Justin died by suicide just as Clarigent was developing the commercial version of the suicide prevention technology. The memory of Justin's life has made this suicide prevention work a more personal mission for me and the team.
"The memory of Justin's life has made this suicide prevention work a more personal mission for me and the team."

— Don Wright, Clarigent Health CEO

What tools does your company produce and how do they work?
Clarigent builds technology to help improve mental health care and outcomes. We recently launched Clairity, an app-based listening tool designed to provide clinical decision support to mental health professionals. Clairity records and analyzes speech with artificial intelligence (AI) trained to identify patients at risk of suicide or other mental health concerns. Clairity is designed to provide an additional objective metric to help identify potential risks.
Clairity AI works by identifying vocal biomarkers from speech. Biomarkers are objective indicators of health states – such as blood pressure, body temperature, heart rate, etc. Vocal biomarkers are objective indicators found in speech. With AI technology, we can detect these indicators and measure changes in someone's mental health status. These vocal biomarkers are then tracked in Clairity over time, alongside patient-reported symptoms and clinical impressions. The data is provided in an interactive format to clinicians.
How has your company done since its start?
We have now completed a total of four clinical trials and have more underway.
In addition to validating the technology and science, our partnerships with organizations participating in our trials provided us a wealth of user experience knowledge. Using this knowledge, and as a result of pandemic-related pivots, we decided to build out additional features and connectivity in our Clairity platform. That platform launched in early October. We are now working with commercial clients but continue to do clinical trials and build out the next generation of tools.
How Kentucky became a national leader in civic data

Kentucky is a national leader when it comes to leveraging state data for improving policy and programs. Yes, you read that right - Kentucky.
Dr. Jessica Cunningham and Kris Stevens (from the Kentucky Center for Statistics) are encouraging folks across the country to think differently about how longitudinal data can be used to make lives better. This week, Jessica and Kris talk with Innovators podcast host Ben Reno-Weber from Louisville's Future of Work Initiative. Hear how their non-traditional backgrounds and love for data, math, and storytelling have come together to change the way business leaders and lawmakers think about how they can help people.
Treating metastatic cancer
A clinician-scientist at the University of Cincinnati, doing a study with teams from Emory University, Columbia University, and the University of Wisconsin, may have identified a treatment-boosting drug to enhance effectiveness of therapies for metastatic cancer and make them less toxic. So far in animal tests, they've seen tumors shrinking and, in some case, completely disappearing.
Drone-integrated electric vehicles
Cincy's Workhorse Group, a tech company that provides sustainable and cost-effective drone-integrated electric vehicles to the last-mile delivery sector, has received a purchase order for 500 of its all-electric C-1000 delivery vehicles. "With this significant order and agreement from Pritchard, we can build upon our nationwide distribution network and expand the number of potential fleet customers that will be able to operate and own a Workhorse delivery truck," said Company CEO Duane Hughes.
Miami U recognized for entrepreneur efforts
Miami University and the Farmer School's John W. Altman Institute for Entrepreneurship was recently named the winner of the 2020 NASDAQ Center of Entrepreneurial Excellence Award. This special award was created by NASDAQ in association with the Global Consortium of Entrepreneurship Centers for the purpose of recognizing the unique achievements and outstanding efforts of entrepreneurship centers across the world.
Real estate developers are bullish on Cincinnati
Cincinnati can expect nearly $700 million in new development, according to the Business Courier's Crane Watch. The investment will be spread across seven different projects, including the District at Clifton Heights, UC's redevelopment of Calhoun Hall, a plan for new apartments in downtown Cincy and a new mixed-use development in Over-the-Rhine.
Do you have something innovative to share?
Is your company leveraging cutting edge technologies? Did your startup raise enough capital to scale up? Are you at the forefront of life saving research? Maybe your organization has a big announcement. Well, we want to hear about it! And, so does our community of innovators and entrepreneurs. Send us your 'Hot Take' on what is going on.
Something to teach, something to learn
Dr. Kedar Mate, President and Chief Executive of IHI
IHI (Institute for Healthcare Improvement) is a non-profit organization headquartered in Boston that works to improve health and healthcare organizations in over 30 countries. Dr. Kedar Mate, President and Chief Executive of IHI, talks about the institute's mission and how Cincy's Hive Networks is playing a pivotal role.
You're very involved with LHNs (Learning Health Networks). Can you explain the concept?
Dr. Mate: IHI works from the axiom All Teach, All Learn. Everyone has something to teach and everyone has something to learn. That thesis was incorporated into LHNs for improving specific health outcomes for patients. LHNs are a marriage of the research community, provider community, and the patient community. All are teaching and learning from each other to improve health outcomes. That 3-part network has been so incredibly critical to the pace and the scale of the work.
What does Hive Networks contribute to the mission?
Dr. Mate: The LHN was essentially an academic model created by Cincinnati Children's Hospital with help from IHI. We needed a way to push it out to a broader audience. We wanted to make it so that anyone who wanted to start a network like this could. That's what Hive Networks has pioneered.
Hive has created the data architecture and the community architecture that enables any clinical community to come together more rapidly and to take better care of patients. Hive took us into the realm of "anyone who wants to start a network can have the ability to do so."
Can you give us an example of how LHNs are succeeding?
Dr. Mate: LHNs in general have made amazing advancements. One example is the LHN for in inflammatory bowel disease (IBD). That network now includes 30,000 patients. That means that almost all kids with IBD are in this network now. The aggregate remission rate for kids with IBD went from an average of 50% to 80% in the last decade. Substantial outcomes for these kids: It means they can go to school, they can go to the prom. Things that weren't possible before remission.
We also have a network for children born with a rare heart syndrome in which the left side of their heart is not working properly. It requires two surgeries to fix before the child is one years old. What was happening is that some children were dying between the surgeries. What was discovered through the LHN is that there were medications that could be administered between the surgeries that could increase the survival rate by 40%.
To learn more about the Learning Health Network model and Hive Networks, visit www.hivenetworks.com. To learn more about the Institute of Healthcare Improvement visit www.ihi.org.
286 innovative companies on our radar! Are you one of them?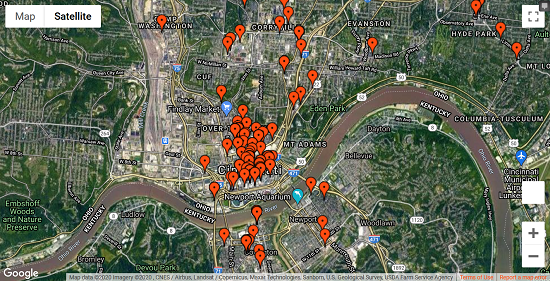 Learn more about the people and organizations shaping the economic future of our city with Cincinnati Future's innovation radar. There are over 275 company profiles. Is your company one of them? Explore the innovation radar to find out.

Learn more about...
Don't see your organization on our radar? Add it here.
Share the Innovation Radar!
Have you checked your "Cincy-Q" recently?
Here's are the questions:
What is historically significant about the world-renowned Rookwood Potter Company?

Who gifted Cincinnati with the Capitoline Wolf statue in Eden Park?

VH1 called this happening the "Least Metal Moment" of 2004. It just so happens it was in Cincy. What was it?
Click here for the answers!
We hope you enjoy these headlines from the latest issue of Flyover Future, chronicling innovation throughout the Midwest. If you'd like to subscribe to Flyover Future, click here.
Share stories, offer suggestions, or comment.