"Information is the oil of the 21 century, and analytics is the combustion engine." – Peter Sondergaard, Gartner Research
Today's issue:
Data analytics & law enforcement


Podcast: 2021 and the data revolution

P&G heads to CES

Miami U adds aging cert

Home-buying startup raises $1.4M


A 3D search engine

On Our Radar: 2021


Know Your City!

Around the Region
January 5, 2021
Data analytics for the law enforcement community


Peel9: CEO Todd Levy, CTO Murat Ozer, CMO Tim Sabransky, and Director of Business Development Daniel Gerard
Peel9, a Cincinnati Business Courier 2020 Innovation-Technology award winner, is an 1819 Innovation Hub supported records management and analytics company that serves the law enforcement community.
Cincinnati Future had the opportunity to speak with CEO and co-founder Todd Levy about the company's origins and the tech behind it.
How did Peel9 come to be?
Levy: I was an Entrepreneur in Residence (EIR) at University of Cincinnati's 1819 Venture Lab. The whole idea behind the Venture Lab is to help monetize the intellectual property that comes out of the university. They offer 8-week cohorts with about 10-12 companies at a time in which people can apply if they're a student, faculty or alum. EIRs get to see a lot of ideas and whether they have traction or not.
In one of the cohorts, I met a team out of the School of Criminal Justice, which, by the way, is the number one the number one criminal justice department in the country. Tim Sabransky and Daniel Gerard, former Cincinnati police captains, had partnered with Murat Ozer, an assistant professor of IT at UC to create a record management system for law enforcement. Murat is also a former counter-terrorism expert from the Turkish National Police.
The software aggregates and condenses the data points of the criminal justice system into actionable data sources. The system can actually be used in police cars. The "special sauce" is the analytics that come out of that. They're able to place people and locations and vehicles together where an infraction has occurred and that's how they help solve crime. In essence, it connects the dots. This lets us get more officers on the street policing, instead of having to go back to the station to do laborious record-keeping.
If there is a statewide drug task force, the data can be shared to help solve the crimes.
We also collect documentation on the use of force and racial profiling, which can be used to monitor officer behavior.
Who is using the software at this point?
Levy: Right now we're focusing on the greater Cincinnati area. We have 12 agencies, and about 200 officers, using it now. We have a couple of very large police or larger suburban police departments are coming online this month.
We have to ask, where does the name Peel9 come from?
Levy: Sir Robert Peel was known as the father of modern policing whose core principles included that the goal is to prevent crime, not catch criminals and that the key to preventing crime is to earn public support by using force only as a last resort.
What were the advantages of launching the company in Cincinnati?
Levy: One was that we got to partner with the number one school of criminal justice in the country at UC. And having UC as a launching pad for this was great. I didn't have to go out and raise the money. Also, Tim Sabransky and Daniel Gerard are known as experts in their field. They do a lot of lecturing across the country.
How will data change your trajectory in 2021?

Last year (it's so nice to write that), Flyover Future launched its inaugural Innovators Podcast with Microsoft's Future of Work Initiative in Louisville. Each episode shares stories from experts at the forefront of data and artificial intelligence.
Listen to gain valuable insight and inspiration for your own data strategy. Your next big idea is one podcast episode away!

Here are a few of the most listened to episodes:
P&G finalists to head to CES
P&G Ventures has announced the four finalists for the third annual P&G Ventures CES Innovation Challenge. The Challenge will culminate with representatives from the selected startups pitching their products virtually to a panel of expert judges on the P&G LifeLab stage during CES in 2021.
Miami U launches successful aging cert
Miami University is helping students get overview of gerontology and aging and interdisciplinary fundamentals of entrepreneurship with a new online certificate program. The goal is to prepare graduates to create innovative solutions within a sustainable business framework, targeting emerging opportunities due to population aging.
Home-buying startup gets seed funding
Over-the-Rhine-based Homebuyer, a startup that caters to first-time homebuyers, has raised $1.4 million in seed funding from private investors including BetterLife Group, Techstars, and Saturn Five.
Physna launches 3D search engine
Cincy software company Physna, Inc. has launched a search engine designed to help designers, engineers and others working with 3D parts have quicker access to the models and shape files that they need.
How will you connect to Cincinnati's innovation ecosystem in 2021?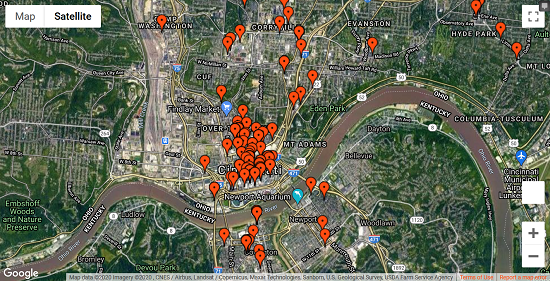 Cincinnati Future created the Innovation Radar so you have a resource to track and connect to the most innovative companies and people in our region. Here are few links to find essential information from the radar:
Find out if you're on the radar! If you're not, you can always add your company. Maybe it will lead to a future story in Cincinnati Future.
The Innovation Radar is free for all newsletter subscribers. Log in with your email and password Future.
Share the Innovation Radar!
Have you checked your "Cincy-Q" recently?
Here are the questions:
From what establishment would you be able to order a 6-pound pretzel?

A woodworker named Mark Singer visited Indonesia in 1994 and was introduced to an industrial glue. He introduced it to the North America in 1999. What is the name of his company, now based in Sharonville?

What Grammy-nominated poet, activist and author grew up in Lincoln Heights?
Click here for the answers!
We hope you enjoy these headlines from the latest issue of Flyover Future, chronicling innovation throughout the Midwest. If you'd like to subscribe to Flyover Future, click here.
Share stories, offer suggestions, or comment.