"To the user, chatbots seem to be 'intelligent' due to their informative skills. However, chatbots are only as intelligent as the underlying database." — Peter Gentsch, serial entrepreneur

Today's issue:
Optimizing business with chatbots

Podcast: New innovative frontiers

Cintrifuse's new managing director


Improving breast cancer outcomes

Resquared gets Silicon Valley money

Virtual reality and surgery




Midwest Venture Showcase

On Our Radar

Know Your City!

Around the Region
February 23, 2021
Ulimi founder talks conversational design
Nick Dokich, Ulimi Founder
Conversational design is all about chatbots and voicebots, both of which are computer programs driven by AI, automated rules, natural-language processing (NLP), and machine learning (ML).
Ulimi, located in Covington, is a tech company that creates chatbots and voicebots to optimize business/workforce performance. Cincinnati Future spoke with Ulimi's founder Nick Dokich about the company.
Can you explain how Ulimi's tech works?
Dokich: A lot of people use bots for playing music, for B2C things, etc. We concentrate on creating them for business processes, like automating call center operations and other things a human shouldn't have to be bothered with.
One example is our tech that lets companies send out surveys to their employees. Like, if you just got hired, we send out a text that will say "Welcome to xyz" and include some information. We continue to send the texts intermittently from then on. That means HR doesn't have to do that and they can follow up with people much more efficiently.
You've recently focused some tech around COVID. What did you create?
Dokich: We do a lot of COVID daily health checks on employees. If you're an employee of a company, the bot will know what shift you're on. It will ping you the night before to tell you to do a health check. If you don't respond by an hour before your shift, it's going to ping you again. Thirty minutes before, it's going to ping you again. Whether you respond or not, five minutes after your shift starts, your supervisor gets a report mailed to them and they can see quickly who's at risk and who's safe to go to work.
One of our chatbots is named Heidi Hires and she's used by the Kentucky Workforce Development Job Board. When COVID hit, they had tons and tons of jobs on the board but there wasn't a good way to search. So we built a bot experience where people could more easily browse for jobs.
"We want to do everything to make people's lives better, to give them back their valuable time."
— Nick Dokich

Is your background in programming?
Dokich: I was in HR for most of my career. A friend approached me with a business idea and asked for my help. He was making Facebook Messenger chatbots. That idea led nowhere but it made me look at the technology and I realized it was something that could help me in my job. I was used to running around like a chicken with my head cut off—we had 500 employees in a warehouse and I spent so much time just trying to track them down. I wanted to make products I could use while I was in motion, while I was doing my job.
What are the advantages of being located in the Cincy area?
Dokich: Infrastructure wise, super-fast internet. We were one of the first companies in Covington to get Google Fiber. But also, our client base is heavily located here: manufacturing, logistics, industrial. Something like 60% of all manufacturing is located within 24 hours of here. It's also a community of hard-working people. We want to do everything to make people's lives better, to give them back their valuable time.
Innovative frontiers from Toronto and Cleveland to Dubai
If you enjoy discovering innovation in surprising places and hearing stories from entrepreneurial leaders, Fast Frontiers is your new must-listen to podcast. Host Tim Schigel, Managing Partner of Refinery Ventures, brings you interviews form leading funders, ecosystem builders, corporate innovators, and startup founders. Your next big idea is one episode away!
Startup growth lessons from Dubai — S2: E4
Recognized by Forbes magazine as one of the "World's Top 50 Women in Tech," entrepreneur and investor Noor Sweid shares insight on scaling up and bringing a company public.
How do you achieve 100x growth? — S2: E5

Whether you're building a startup or an innovation ecosystem, you need to hear insights from Cleveland Foundation's Baiju Shah. The veteran executive, investor, and entrepreneur shares stories about his passion for growth, Cleveland, and the next generation of healthcare.
A chemical engineer excels in early tech investing — S2: E6

Michelle McBane is passionate about working with technology entrepreneurs. As the managing director of Standup Ventures, she leads investments in early stage technology companies led or co-led by women founders. Hear what she looks for in founders and get an insight into Toronto's innovation ecosystem.
Cintrifuse hires managing director
Improving breast cancer outcomes
Resquared gets funding from Silicon Valley
In 2020, Cincy startup Resquared launched the first marketing platform specifically designed to reach local businesses. Now the company has received funding from Y Combinator, a Silicon Valley-based firm that funds category-defining ventures and provides them world-class mentorship.
Motion capture and VR in surgery
Midwest Venture Showcase — April 27-28, 2021
With a blend of on-demand and live sessions, the virtual 2021 program is designed to provide you with the latest industry updates and flexibility to view content and company pitches according to your schedule. Co-produced by InvestMidwest and the Midwest Growth Capital Symposium. Register HERE.
What innovators do you want to know about?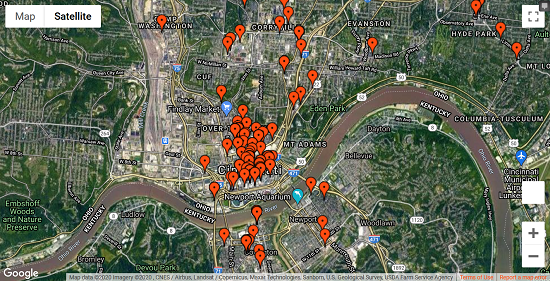 Cincinnati Future created the Innovation Radar so you have a resource to track and connect to the most innovative companies and people in our region.
Discover local innovative companies and learn about the people behind them. You can also help build our innovation radar by adding companies here. Let's build our innovation ecosystem together!
Here are several helpful links to find local innovation at work:
The Innovation Radar is free for all newsletter subscribers. Log in with your email and password Future.
Share the Innovation Radar!
Have you checked your "Cincy-Q" recently?
Here are this week's questions:
This 1884 tragedy left 56 people dead and over 300 wounded. Citizens of the Queen City, enraged over crime-ravaged streets and corrupt city leaders, marched on the city jail, and eventually battled with National Guard troops in what has gone on to be referred to as what?

Tony Award-winning performer Faith Prince, opera superstar Kathleen Battle, and legendary jazz trumpeter Al Hirt all graduated from what Cincinnati-based educational establishment?

What Northern Kentucky city was the third largest city in Kentucky in 1900, became known as "Sin City" in the 1940s and 1950s, and is now home to shark rays Scooter and Sweet Pea at its huge aquarium?
Click here for the answers!
We hope you enjoy these headlines from the latest issue of Flyover Future, chronicling innovation throughout the Midwest. If you'd like to subscribe to Flyover Future, click here.
Share stories, offer suggestions, or comment.