Today's issue:
Bringing groundbreaking ideas to market

Ohio Tech Day

Around the Region

Know Your City!
August 31, 2021
Bringing groundbreaking ideas to market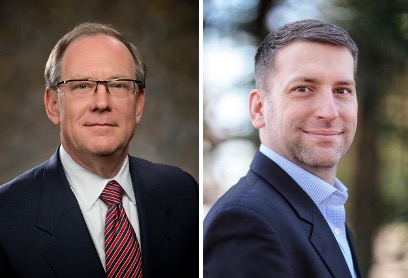 CEO Dennis Andersh; Director Matt Bush, Parallax
Parallax Advanced Research is a 501(c) nonprofit organization that works with academia, government and industry to speed groundbreaking ideas to market. Parallax recently received $9.6 million in federal funding to expand its Academic Partnership Engagement Experiment (APEX).
Cincinnati Future spoke with Parallax CEO Dennis Andersh, as well as Director Matt Bush, who led a recent project with the Ohio Federal Research Network (OFRN).
Tell us about Parallax.
Andersh: Our work is in the applied research area. We act as a bridge between academia, industry and the government to bring new technology solutions to our clients and customers. We're helping to develop what we call the science of intelligence. We've got a really strong artificial intelligence (AI) and machine learning group. We have roughly 25 Ph.D.s that are spread out across different parts of the country. We helped create eight new companies across Ohio. We work with universities and tech transfer offices to get tech out of the university and into industry. We provide assistance and coaching to ensure that those companies are as successful as possible.
You're part of OFRN. What is that?
Andersh: OFRN is a State of Ohio-focused research and development program that was established by Parallax and the Ohio Department of Higher Education in 2014. OFRN's mission is to stimulate Ohio's innovation economy by funding R&D projects that meet federal laboratory requirements and build statewide university and industry collaborations.
Matt, how did you happen to join the team?
Bush: My last role was at the Office of the Secretary of Defense and the Pentagon. One of my focus areas was on how to get the government, academics and industry to work together to go after the hard innovative challenges in order to be more competitive in the era of global competition.
When my son was born in 2019, my wife and I knew that we needed family support. We returned to Ohio, where we both grew up. My entire family lives within a 30-minute drive in my house right now.
I was looking for a place where I could put into practice this idea that I helped work on in the Pentagon. Through networking, LinkedIn, cold-calling and many conversations, I made my way through to Dennis, who then brought me onboard. Parallax is exactly what I wanted to do—to put this idea into practice, bringing the whole-of-nation concept together to move the innovation needle forward.
"If you look on federal websites, you'll see that the kind of R&D expenditures for Ohio is significant compared to other states of comparable size."
— Matt Bush, Parallax

Tell us about a specific project you've done with OFRN.
Bush: Regional Unmanned Traffic Management System (RUTMS) was part of the third round of OFRN funding and was one of the first projects aligned with the Sustaining Ohio's Aeronautical Readiness and Innovation in the Next Generation (SOARING) initiative.
The University of Cincinnati (UC) created RouteMaster, a collision avoidance traffic management digital infrastructure that allows both manned and unmanned systems to operate in confined spaces, such as an emergency response scenario or the modern urban environment.
Once they were selected for funding, we went through the process of helping them work through their technical and financial aspects. We worked with great people. Dr. Kelly Cohen, a faculty member at UC's College of Engineering and Applied Science, is a hard-charging individual. Bryan Kowalczyk is a Sr. Research Associate at the UAV MASTER Lab at UC. They completed all of their agreed-upon milestones and objectives—all while staying in scope with commercialization and getting the product out there so it has more of an impact.
What are the advantages of working on projects in Cincy, and in Ohio in general?
Bush: First of all, the Cincinnati Innovation District (CID) is moving full-steam ahead. What they're doing at CID is phenomenal, and it provides a huge opportunity for the residents of Cincinnati. As for the state of Ohio itself, it invests significantly in R&D. If you look on federal websites, you'll see that the kind of R&D expenditures for the state of Ohio is significant when compared to other states of comparable size.
Another example is Ohio's Third Frontier program, which works with tech startups across the state, from biomedical devices to software. There is also the Technology Validation and Startup Fund, which helps move the state of Ohio's entrepreneurs forward in the early stage of tech innovation. The state of Ohio does a great job.
Join OhioX, Facebook, and dozens of companies, schools, and organizations across the state for the first ever Ohio Tech Day on Friday, September 24th. Ohio Tech Day is designed to include and inspire Ohio's high school students: our next generation of leaders in tech and innovation.

Who can participate? Any company, school, or organization interested in growing Ohio's tech economy. Join us to celebrate your tech, the people who make it all happen, and help us build Ohio into a leading tech hub.
For more information, please visit www.ohiotechday.org and you can register here for the signature Ohio Tech Day event.
Have you checked your "Cincy-Q" recently?
Here are this week's questions:
Who was the Cincinnati Reds manager during the "Big Red Machine" era that won the World Series in 1975 and 1976 with the Reds and then later, with the Detroit Tigers?

What Cincinnati neighborhood is home to the Cincinnati Union Terminal?

What is the name of the annual marathon run in Cincinnati during the first weekend in May?
Click here for the answers.
Share stories, offer suggestions or leave a comment.