"I believe in the near future, we'll be able to print our buildings and houses." — Neri Oxman, MIT professor

Today's issue:
Additive manufacturing




Podcast: Innovation on Fast Frontiers

Physna raises $20 million

Therapeutics at the push of a button

Zebrafish and scoliosis


UC Lab studies autonomous vehicles

SoCap's spring cohort

On Our Radar

Know Your City!

Around the Region
February 9, 2021
Rick Neff, Rick Neff LLC
There's a big focus on Ohio for manufacturing. In fact, in 2012, Youngstown, OH, was chosen to be the flagship institute (America Makes) for Manufacturing USA, a national accelerator for technology research and innovation in additive manufacturing and 3D printing.
As Rick Neff, of Rick Neff, LLC, says, "In Ohio, we know how to make things."
Neff's two-year-old Cincinnati company contracts with manufacturers who are implementing additive technologies. We had the opportunity to speak with Neff about additive manufacturing and what his company does.
Let's start with some basics. What is additive manufacturing?
Neff: Traditionally, machinists take a block of material and machine away part of the material to get the part you want. We create a 3D representation of that part using CAD software. Once we have that software representation, we place it into really small, thin layers. We then build those layers one at a time until we've built the part from the bottom to the top.
What are the advantages of additive manufacturing?
Neff: It enables the creation of lighter, stronger parts and systems. Typical manufacturing practices like injection molding require expensive tooling that has a long lead time. Additive manufacturing has a shortened lead time. The tech also allows you to make many prototypes to optimize the design, and there is a savings in cost and time. And sometimes there's just no other way to make a particular part design other than additive manufacturing.
What made you start a company in this field?
Neff: There's a real lack of qualified people that really understand the industry, people who "get it." I decided to start my own company doing consulting work for those people. I spend half my time learning new tech around additive manufacturing and the other half sharing what I know.
Who are your clients?
Neff: FireHawk Aerospace is one of our clients. They make hybrid rocket engines. They're using 3D so the engines can be made as quickly and inexpensively as possible while leaving less room for error. Catalysis is another—it's in the vacuum forming and composites manufacturing space. OpenAdditive uses Laser Powder Bed Fusion (LPBF) additive manufacturing systems.
"In Ohio, we know how to make things."
— Rick Neff

What is your background?
Neff: I grew up outside of Philadelphia and attended Lehigh University. I lived in San Francisco, Los Angeles, Boston, and then moved to Cincinnati about 28 years ago because my wife at the time was transferred here for her job at Procter & Gamble.
How does Cincy stack up to those other cities?
Neff: Cincinnati has everything to offer that any of the large cities do. It's got great music. It's got great culture. It's got a fabulous restaurant scene—if you're a foodie, it's a great place to live right now.
And it doesn't have the problems of the big city. It doesn't have a high cost of living and it's easy to get around. You're not stuck in traffic all the time. The people are friendly. It's a good place to grow a company as well.
What do you see for the future of additive manufacturing?
Neff: Additive manufacturing has been growing at a double-digit pace for the last 10 years or so and I see it growing at a double-digit pace for the next 10 years. The technology is always changing.
Explore innovation with the Fast Frontiers podcast

If you enjoy discovering innovation in surprising places and hearing stories from entrepreneurial leaders, Fast Frontiers is your new must-listen to podcast. Host Tim Schigel, Managing Partner of Refinery Ventures, brings you interviews form leading funders, ecosystem builders, corporate innovators, and startup founders. Your next big idea is one episode away!
Wendy Lea, CEO of Energize Colorado — S2: E1

What is your potential? How do you create an independent entrepreneurial path? Leading digital innovations strategist and ecosystem development guru, Wendy Lea, shares her story and strategies.

Victor Gutwein, Managing Partner of M25 — S2: E2

There is more innovation happening in the Midwest than you think. Get insight on the region and access to capital from M25 founder and partner Victor Gutwein. CBInsights recently identified M25 as the most active investor in Illinois, Michigan, AND NEBRASKA.
Steve Walchek, Chief Innovation Officer of FIS — S2: E3

From founder to product manager, to business development and everything in between, FIS Chief Innovation Officer Steve Walchek has done it all. Gain an edge from Steve's insight on different destinations along an innovator's journey.

Physna raises $20 million
Therapeutics at the push of a button
OK, we're not sure about the name, but UC researchers are using zebrafish to study a gene mutation that causes scoliosis. Zebrafish and humans share 70% of the same genes. The embryonic tissue of zebrafish is transparent, making visualization easier. The research involves separating genes on a particular chromosome.

SoCap taking applications for Spring cohort
Midwest Venture Showcase — April 27-28, 2021
With a blend of on-demand and live sessions, the virtual 2021 program is designed to provide you with the latest industry updates and flexibility to view content and company pitches according to your schedule. Co-produced by InvestMidwest and the Midwest Growth Capital Symposium. Register HERE.
Should your company be on our Innovation Radar?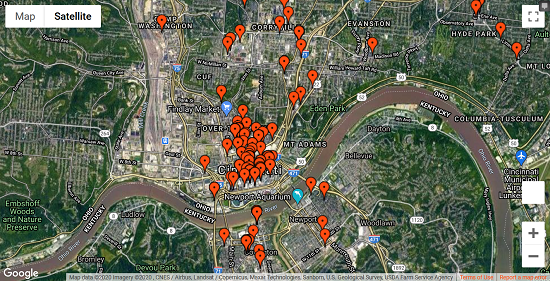 Cincinnati Future created the Innovation Radar so you have a resource to track and connect to the most innovative companies and people in our region.
We're currently tracking over 275 innovative organizations.
Should your company be on Cincinnati Future's innovation radar? If so, you can add it here. Help us feature more local innovation!
The Innovation Radar is free for all newsletter subscribers. Log in with your email and password Future.
Share the Innovation Radar!
Have you checked your "Cincy-Q" recently?
Here are this week's questions:
The origins of "Cincinnati Chili" are vast and varied. However, it is widely known that immigrants from what country were the originators of what we now eat every day in Cincinnati and the world over?

Who wrote the theme song for the TV show "WKRP in Cincinnati?"

Which World Series champion baseball superstar played high school baseball at Cincinnati's Sycamore High School and college ball at the University of Cincinnati?
Click here for the answers!
We hope you enjoy these headlines from the latest issue of Flyover Future, chronicling innovation throughout the Midwest. If you'd like to subscribe to Flyover Future, click here.
Share stories, offer suggestions, or comment.