"What's unique about influenza is it's constantly changing." — Dr. Jacqueline Katz, National Center for Immunization and Respiratory Diseases
Today's issue:
Searching for a universal flu vaccine

Podcast: Healthier with data


Astronauts and their laundry

Joot closes investment

Regenerating skin

Precision marketing


Hive Networks celebrates wins

On Our Radar: 2021


Know Your City!

Around the Region
December 29, 2020
David I. Bernstein, MD, MA and Monica McNeal, MS of Cincinnati Children's
While the world is currently laser-focused on the COVID-19 vaccine, some Cincinnati researchers are working on another goal: developing a universal vaccine for seasonal influenza.
The CDC estimates there were 38 million cases for the 2019-2020 flu season. Eighteen million sought care from their healthcare provider, 400,000 were hospitalized, and 22,000 died. A universal vaccination would provide life-long protection against the flu.
According to Pediatric Professor Dr. David Bernstein of Cincinnati Children's, the COVID vaccine is more effective against the virus than regular flu shots are against the flu. That's because influenza virus vaccines contain three or four strains of influenza virus that cover the viruses circulating in the human population. Flu strains change almost every season and researchers have to anticipate what it might be.
"It's an educated guess and we often don't get it quite right," Bernstein told WVXU.
Last year, Cincinnati Children's received a $30 million federal grant (the second largest for the medical center) to be used toward developing the universal flu vaccine. The medical center is currently testing a universal flu vaccine developed by Mt. Sinai.
Cincinnati Children's is also looking at how the flu virus "imprints" on you if you have it as a child. It is tracking flu exposure and vaccine response among 2,000 sets of mothers and infants.
Blue Water Vaccines
Blue Water Vaccines, which received $7 million in financing last year from CincyTech, has been working with scientists at Oxford University in the United Kingdom to develop and test a universal flu vaccine.
The company uses a mathematical model to protect people against all strains of influenza during their lifetime. Their focus is to make ideal vaccine targets by directing the antigenic evolution of the influenza virus.
Blue Water CEO Joseph Hernandez says the company will begin testing the vaccine in people next year.
Matt Doctrow turned a job analyzing equipment usage for the U.S. Army's special operation command into a career leading healthcare companies on the journey to operationalize their data. Now, heading up analytics for healthcare startup SentryHealth, Matt helps to solve health problems for people before they actually happen.
How do astronauts do their laundry?
Add this one to things you never thought about. P&G has signed a contract with NASA to develop the first detergent for washing clothes in space. The collaboration will contribute to NASA's goal of sustainable long-term exploration.
Queen City Angels investments
Queen City Angels has closed an investment with Joot, a two-year-old company that applies automation and technology to improve the SEC compliance process for small and medium-sized financial advisory firms.
Researchers regenerate skin
Scientists at Cincinnati Children's Hospital have used new stem cell tech to regenerate living patient-specific skin in the lab. The purpose of the study is to see how inherited DNA defects cause deadly squamous cell carcinoma in children and young adults with Fanconi anemia.
Kroger makes big step in precision marketing plan
84.51° and its retail media business, Kroger Precision Marketing (KPM)-- has teamed up with leading streaming platform Roku to create precision TV targeting at scale. 84.51°'s data science can provide insight into purchase behavior over time predict which households are likely to convert.
Hive Networks celebrates wins in a difficult year
John Bostick, Hive Networks Founder
There wasn't much good news from 2020. But one Cincinnati company – Hive Networks – quietly pushed through the unprecedented year of loss and upheaval to score some important wins.
Hive Networks offers a software platform that helps bring patients, clinicians, and researchers together, in a working community, to improve patient outcomes.  It was founded in 2019 as a Cincinnati Children's spinout with CincyTech backing.
Wins
Earlier this month, Hive Networks announced a multi-year partnership with ImproveCareNow (ICN), a working community that seeks to improve the health and care of children and youth with Crohn's disease and ulcerative colitis – collectively called Inflammatory Bowel Disease (IBD).
More than 70,000 children in the U.S. live with IBD. Through the partnership, Hive's platform will create capacity for ICN to improve the health outcomes for those children through its shared learning technology. "Hive will enable our community to better cross-pollinate ideas, deliver data more efficiently, and foster improved outcomes for patients," said ImproveCareNow Executive Director Kristin Howe.
Accolades
Hive's mission of helping people is deeply felt, and fervently practiced, by its team. The company was recognized in November by TechOhio as the 2020 Startup Culture Award Winner, but not for the flashier employee perks you usually see in startups. The Hive team was acknowledged for the familial feel of a tight-knit and hardworking staff that is passionate about an important mission.
"We have to embody what we sell, right? So we come at this with humility and curiosity and an excitement about figuring out how we're going to solve those problems. To do that, you can't be siloed and you can't be one guy thinking he always has the answers. You have to have a culture that values and respects everyone's ideas and is willing to change," Chris Sauer, Hive's Systems Architecture Director told TechOhio.
Closing out the year, Hive was just named as one of Cincy Inno's Greater Cincinnati startups to watch in 2021. The early-stage companies were chosen for their solid traction and innovative approaches to important problems. Hive's first-of-its-kind technology and the recent partnership with ICN being prime examples of that.
To learn more about Hive Networks' vision and accomplishments, click here.
Who is on your 2021 radar?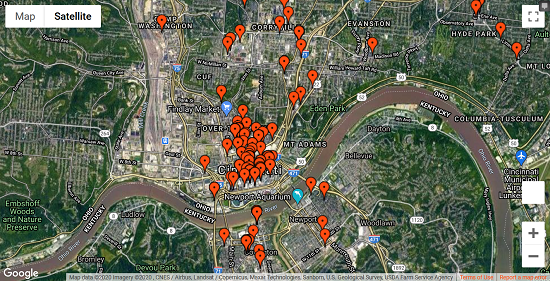 Is your startup looking for funding in 2021? Does your company need a new technology solution? Curious on where to find an innovation facilitator?
We can help.
Cincinnati Future created the Innovation Radar so you have a resource to track the most innovative companies and people in our region. We're currently tracking over 250 companies. Here are few links to find essential information from the radar:
Find out if you're on the radar! If you're not, you can always add your company. Maybe it will lead to a future story in Cincinnati Future.
The Innovation Radar is free for all newsletter subscribers. Log in with your email and password Future.
Share the Innovation Radar!
Have you checked your "Cincy-Q" recently?
Here are the questions:
Cincy's Kutol Products Company, Inc., has been manufacturing cleaning products since 1912. What side product are they responsible for creating?

We all know Cincy's connection to chili, but what other fast food item was created by a McDonald's franchise owner in the city?

We love us some Graeter's ice cream. What makes the Graeter's ice cream production process different than any other in the world?
Click here for the answers!
We hope you enjoy these headlines from the latest issue of Flyover Future, chronicling innovation throughout the Midwest. If you'd like to subscribe to Flyover Future, click here.
Share stories, offer suggestions, or comment.